Samsung Galaxy S4 is about to make a new record in the Guinness Books of World Record under the section of "Most Burned Smart Phone in 2013". In order to achieve the goal, Samsung has decreased the quality of its newly released Flagship because they want to compete to achieve the award from Guinness Books of World Record. We don't know about the competitor of Samsung because Samsung is competing country wise with its own Flagships. We didn't come across any competitor of Samsung, rather than Samsung Galaxy S4 Flagships burning around the Globe.
This might sound shocking/strange that another newly bought Samsung Galaxy S4 burned from the bottom while it was charging. This time the Galaxy S4's ass burning news comes from Pakistan, where the frustrated owner of newly bought Samsung Galaxy S4 reached Axeetech on their Facebook page to show the high quality plastic body Smart Phone that burned from the bottom while it was charging.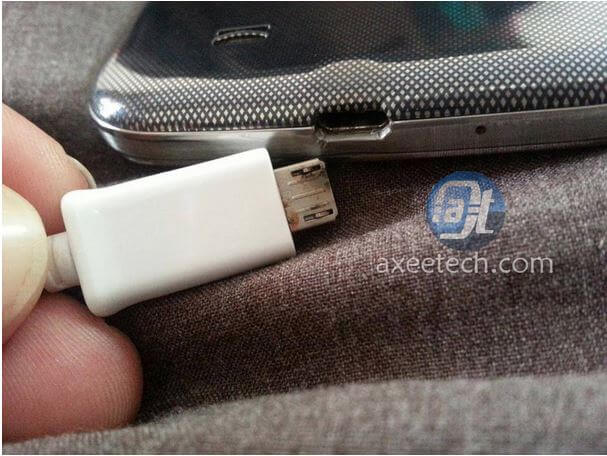 The name of the frustrated owner is Salahudin, who is a citizen of Pakistan and bought this next level Plastic Body Smart Phone hardly few days back. The owner of burnt Galaxy S4 bought this next level Samsung Phone to enjoy the new features, display, and many more new thing that were added to Galaxy S4 by Samsung, but who knew that this piece of Galaxy S4 will end up like three others did in different parts of the world.
According to the owner, the phone was on charge like daily routine, but this time the routine went different. While the Galaxy S4 was on charge, Salahudin noticed a strange smell of a wire burning. Upon investigation, he found out that his newly bought Samsung Galaxy S4 charging wire was the cause of the smell.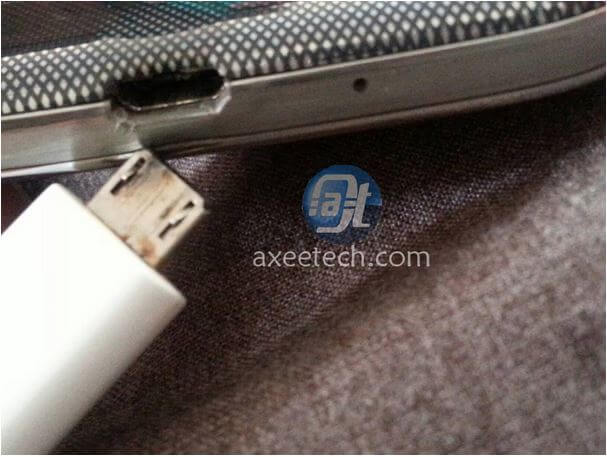 When the wire was taken out of the Samsung Galaxy S4, a minor burn was spotted on the top of the Micro-USB that is shown in the image above. The burn might seem minor, but it has strongly affected the charging that is the phone is no longer capable of charging. The owner has said RIP Galaxy S4.
However, the owner of the smart phone has knocked the doors of Samsung to look into the case and replace this bottom burnt Samsung Galaxy S4 with a new one. Amazingly, Samsung Pakistan showed a non-serious attitude towards the owner complaint and showed a resistance attitude. We hope that some one from Samsung Official's respond to his complain and at least look in the matter or further investigate in the case to see the root of the problem.
The owner of this Samsung Galaxy S4 was lucky to catch the issue on the spot; other wise Galaxy S4 can lead you to damages more than it's cost.
Previously a house was burnt due to Samsung Galaxy S4. After all, Samsung has designed its new Flagships for humans.