The same date that has been blacklisted previously by major carriers in the case of Vacation Black Out is now further being blacklisted by the fourth largest carrier of U.S.A, T-Mobile. The date is well known by every one and something new is coming to stores the same date. The date is September 21, when the iPhone 5 is highly expected to land in U.S.A for sale. From this day until the first week of October, the major carriers of U.S.A including AT&T and Verizon were rumored to be blacking out the vacations of their employees that were later on backed out by stating the news as false.
Later today, T-Mobile the fourth largest carrier struggling to have an iPhone for sale posted a strange code word in their internal memo "Selling against the iPhone." This internal memo from T-Mobile arrived in the inbox to TMONEWS showing this code word on the same iPhone 5 sale date, September 21.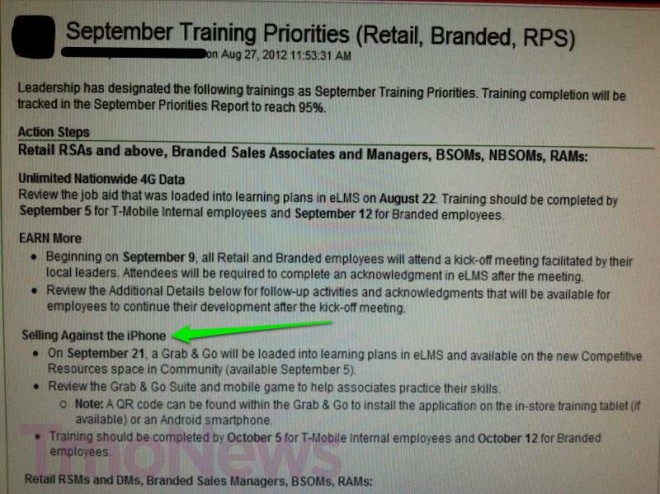 According to the above leaked memo from T-Mobile, there can be two possible suppositions starring the first one that, T-Mobile will not be having the iPhone 5 for sale because they are officially trying to have an iPhone on their platform although the iPhone has been released since four years ago. The second supposition is that, T-Mobile would be selling against the iPhone. This means T-Mobile would be selling some sort of Android Phones on the same date rather than the iPhone. The Android Smart Phone has been listed in the above image as well.
However, the date of the iPhone 5 launch points towards September 21 where as the rumored date is September 27 for the first wave of the iPhone 5 launch. This new date of the iPhone 5 launch has created some confusion among the previous rumored dates.
Till now nothing is legitimate until Apple stages with the iPhone 5 on September 12.
via (Engadget)