The same website that was selling the iPhone 5 Mod Kit was sent a legal notice by some company authorized by Apple to take down the iphone5mod.com. After receiving the legal notice, the iPhone 5 mod kit team posted a blog entry stating that the orders will be delivered to those who have ordered for the kits and we will be live till next 48 hours only. When the given time by iPhone 5 mod was passed away, we checked the website, it was working on full swing. We don't remember about the orders processing was present or not, but the website was working on full swing.
Later on we thought the website would have gone down, but not really. The iPhone 5 mod kit people made a comeback this Tuesday for a limited time. This time they are offering the same iPhone 5 mod kit on the same prices with a countdown timer on their website. The timer is showing the take down time in hours, minutes, and seconds after which the iphone5mod will go down.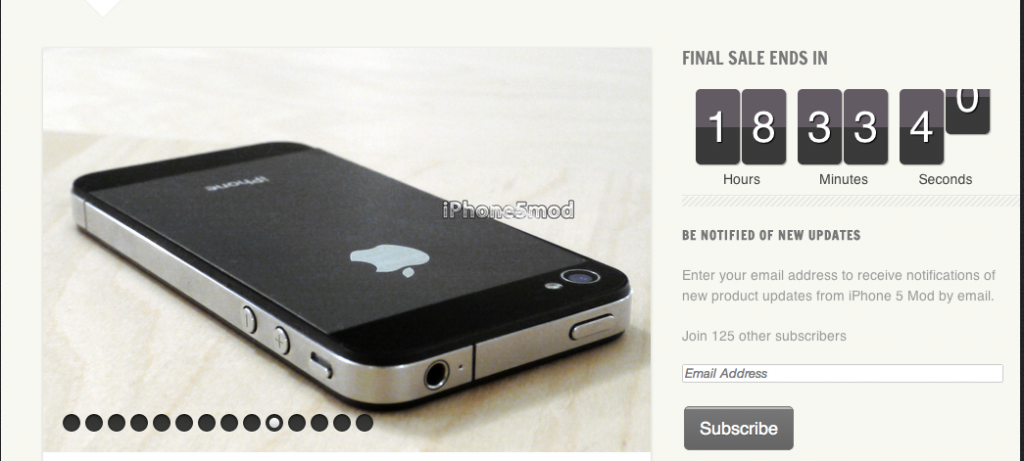 Therefore, you got a total of eighteen hours before the website goes down. If you need to mod your iPhone 4/4S to make it iPhone 5, this is the perfect time to order a kit for yourself. This iPhone 5 mod kit might save your money compared to the price of the upcoming iPhone 5. The design of the iPhone 5 mod kit is purely based on the rumored design of the iPhone 5 leaked dummies.
The iPhone 5 mod kit only changes the back plate of the iPhone 4/4S and makes it look like as of the iPhone 5's leaked designs. Rest the iPhone 5 mod kit doesn't changes the looks of the iPhone 4/4S from front or sides. Only the back plate is changed. The screen size also remains the same. You cannot make the iPhone 4/4S a 4-inch screen with this iPhone 5 mod kit. Only if you need to show off, then the kit is perfect for you.
Don't forget to tell us about your reviews regarding the iPhone 5 mod kit. We would love to know your thoughts on the iPhone 5 mod kit.