The Mac Daddy's company is already booming up with the iPhone 5. The iPhone 5 revealed on September 12 disappointed many fans but still overwhelmed many of the users who are still in fate of upgrading to iPhone 5 because of the quality, power, features and much better design comparing to any smartphone device. The iPhone's are the only smartphones running iOS 6 and people have loved iOS 6 against Android over knowing that many features are adopted from Jay Freeman's Cydia.
Folks around are disturbing the iPhone 5's reputation by claiming that the Cupertino company have just stretched the iPhone 4/4S, believing on that if Apple would have added Near Field Communication (NFC), HDMI port/Micro-USB cable or any other global used accessory connection it would have been fabulous but still Apple has done it.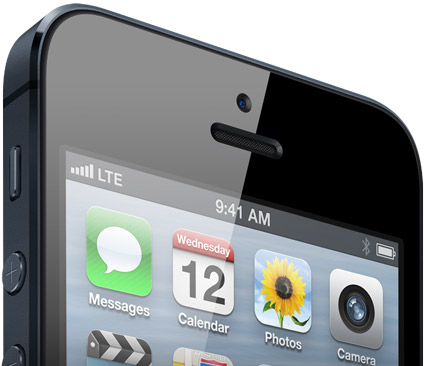 Well, just days before the iPhone 5 event 'It's almost here', Samsung Galaxy S3 ousted iPhone 4S as the best-selling smartphone in America by the carriers of T-Mobile, Sprint and Verizon. Today Apple has announced exclusive news that again slaps on Samsung.
Two Million iPhone 5's have been pre-ordered in first 24 hours on September 14. AT&T has reported that the Apple's fastest selling smartphone is the iPhone 5. An estimate of 46 iPhone 5's pre-ordered in a second, 1388 per minute, 83,333 per hour on September 14 which was claimed by one of the Apple's spokesperson 'We've been completely blown away by the customer response'.
On September 14, Apple was completely raffled due to the high pre-order and the delivery time for the shipment of the iPhone 5 slipped from one week to two weeks. Last year one Million iPhone 4S's were pre-ordered on the first day of pre-ordering while comparing to iPhone 4 it was 600,000 pre-orders.
Phill Schiller in an official Statement Stated:
"iPhone 5 pre-orders have shattered the previous record held by iPhone 4S and the customer response to iPhone 5 has been phenomenal… iPhone 5 is the best iPhone yet, the most beautiful product we've ever made, and we hope customers love it as much as we do."
The competition isn't over yet. Apple has four more days to surpass the Galaxy S III sale. The iPhone 5 will go on sale at September 21 in selected 21 countries. Before the iPhone 5 makes an appearance on the shelves of the Apple Stores, people have already started to line up outside the Fifth Ave Apple Store in the New York for the iPhone 5. The lines will be followed by every one around the globe; as soon as the iPhone 5 sale comes near.
Below is the Apple's Press Release:
iPhone 5 Pre-Orders Top Two Million in First 24 Hours
CUPERTINO, California—September 17, 2012—Apple® today announced pre-orders of its iPhone® 5 topped two million in just 24 hours, more than double the previous record of one million held by iPhone 4S. Demand for iPhone 5 exceeds the initial supply and while the majority of pre-orders will be delivered to customers on September 21, many are scheduled to be delivered in October. iPhone 5 is the thinnest and lightest iPhone ever, completely redesigned to feature a stunning new 4-inch Retina™ display; an Apple-designed A6 chip for blazing fast performance; and ultrafast wireless technology*—all while delivering even better battery life.**
"iPhone 5 pre-orders have shattered the previous record held by iPhone 4S and the customer response to iPhone 5 has been phenomenal," said Philip Schiller, Apple's senior vice president of Worldwide Marketing. "iPhone 5 is the best iPhone yet, the most beautiful product we've ever made, and we hope customers love it as much as we do."
iPhone 5 comes with iOS 6, the world's most advanced mobile operating system with over 200 new user features including: an all new Maps app with Apple-designed cartography, turn-by-turn navigation and an amazing new Flyover™ view; Facebook integration for Contacts and Calendar, with the ability to post directly from Notification Center; Passbook®, the simplest way to get all your passes in one place; new Siri® features, including support for more languages, easy access to sports scores, restaurant recommendations and movie listings;*** Siri and Facebook-enabled apps like Photos, Safari® and Maps; and Shared Photo Streams via iCloud®.
Pricing & Availability
iPhone 5 will be available at 356 Apple retail stores in the US beginning at 8 a.m. local time on Friday, September 21. Every customer who buys an iPhone 5 at an Apple retail store will be offered free Personal Setup service, helping them customize their iPhone 5 by setting up email, showing them new apps from the App Store and more, so they'll be up and running with their new iPhone before they leave the store.
iPhone 5 comes in either white & silver or black & slate, and will be available in the US for a suggested retail price of $199 (US) for the 16GB model and $299 (US) for the 32GB model and $399 (US) for the 64GB model. iPhone 5 will be available from the Apple Online Store (www.apple.com), Apple's retail stores, and through AT&T, Sprint, Verizon Wireless, select Best Buy, RadioShack, Target and Walmart stores and select Apple Authorized Resellers. iPhone 4S will also be available for just $99 (US) and iPhone 4 will be available for free with a two-year contract.****
iPhone 5 will roll out worldwide to 22 more countries on September 28, including Austria, Belgium, Czech Republic, Denmark, Estonia, Finland, Hungary, Ireland, Italy, Liechtenstein, Lithuania, Luxembourg, Netherlands, New Zealand, Norway, Poland, Portugal, Slovakia, Slovenia, Spain, Sweden and Switzerland.
* LTE is available through select carriers. Network speeds are dependent on carrier networks, check with your carrier for details.
** Battery life depends on device settings, usage and other factors. Actual results vary.
*** Not all features are supported in all countries.
**** Availability varies by carrier.
Apple designs Macs, the best personal computers in the world, along with OS X, iLife, iWork and professional software. Apple leads the digital music revolution with its iPods and iTunes online store. Apple has reinvented the mobile phone with its revolutionary iPhone and App Store, and is defining the future of mobile media and computing devices with iPad.
Press Contacts:
Nat Harrison
Apple
harri@apple.com
(408) 862-0565
Natalie Kerris
Apple
nat@apple.com
(408) 974-6877
Apple, the Apple logo, Mac, Mac OS, Macintosh, iPhone, Retina, Flyover, Passbook, Siri, Safari and iCloud are trademarks of Apple. Other company and product names may be trademarks of their respective owners.