Everyone is in a hope to buy an iPhone 5 before it is even announced officially by Apple. People are willing to cash their iPhone 4S to have the iPhone 5. As usual, Apple has vacuum-packed the lips about the iPhone 5. Apple is never going to tell anything related to the iPhone 5. They still haven't confirmed about any Media Event for September 12 about which we are confirmed and many reliable sources confirmed the Media Event for September 12. Temporarily, Apple is offering its users to recycle their iPhone 4S Devices up to $345 in the form of iTunes Gift Card.
Apple is using the same offer that it used in past. This offer allows a person to recycle the old technology and get an iTunes Gift Card according to the price calculated. The iPhone 4S in White, 64GB of capacity could get you $345 in the form of Gift Card only if it is in good condition and fully working. On the other side, the Black iPhone 4S, 16GB of Capacity would let you have a $285 Gift Card from Apple. The prices are the same of White Color iPhone 4S, 16GB as well.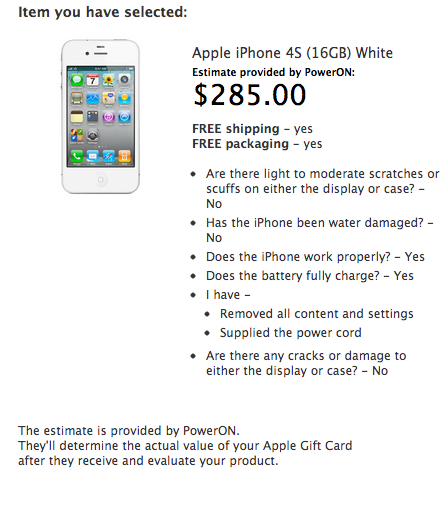 The above-mentioned prices are limited to particular condition of the iPhone 4S. The condition of the iPhone 4S should be fully working, no water damage, no scratched on the screen, and no cracks. If the user fulfills the above mentioned requirements, then in return he gets is an Apple Gift Card that be used any where in the Apple Store. The person can use the same gift card in iTunes or use it to buy any new product from Apple.
The iPhone's that are bought by Apple are either recycled if in bad condition or refurbished and sold if in good condition.
The time and price are fair enough to recycle your iPhone 4S now before it is too late. If you think Apple is pricing your iPhone 4S at very low price, you can head over to E-Bay where the prices for the iPhone 4S boosted to $500 depending upon the condition.
If you are willing to trade in your iPhone 4S with Apple, visit the official website here and trade in your iPhone 4S. Don't forget that you can get another iPhone 4S at $125 from Sprint and other carriers.
Here is our deal. Trade in your iPhone 4S with Apple. Buy a new iPhone 4S from Sprint at $149, Trade-in the newly bought iPhone 4S with Apple, to keep on gaining Apple Gift Card to have an iPhone 5.