Reports are enclosing by that Sprint, the American carrier has dropped the prices of the iPhone 4S to $149.99 from $199.99. This change of price drop was noted by AllThingsD. Moreover, Sprint has also waved off the activation charges of $36. This special offer is only available at Sprint's official website. This offer is not valid for carriers other than Sprint. The price of the iPhone 4S at the Apple online store remains the same $199.99.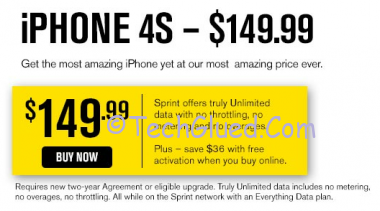 The website says that the price bead is done due to promotional offer, where as we believe that the price drop has been due to the upcoming iPhone 5 Media Event. On September 12, Apple is reportedly having a Media Event on which they will be announcing the iPhone 5 with iOS 6. The date for the Media Event is rock firm. The rumors on the Internet are making more heat regarding the iPhone 5. The launch of the iPhone 5 is expected by September 21.  As far as the iPhone 5 is concerned, the leaked parts, images, and hands on video suggest that the iPhone 5 has been sent into production or is about to be sent into production.
Recently, the SIM Card Tray Frame of the iPhone 5 was leaked and it suggested an innovation is being done by Apple. Apple is going Nano this time to compete with its competitors.