The rumors regarding the iPhone 5 are heating up before the official launch. Previously we have come across many rumors regarding the leaked images, parts, and videos of the iPhone 5. All those leaks had one thing in common. The common thing was the larger display of the iPhone 5. The iPhone 5 is rumored to have a large display of 4-inch. Impressed by Samsung and other Cell Phones, Apple has planes for a large 4-inch display set for the release this fall. The rumor regarding the display was really a myth. However, now it is no more a Myth because the rumor has been converted into 100% confirmation.
The confirmation of a 4-inch display comes from no other company than Apple. Apple's official iOS 6 beta 6 leaked the secret of the upcoming iPhone 5 that it will be getting a 4-inch display. This confirmation gets a firm weight by 9to5mac's, Mark Gurman who digs into the recently released iOS 6 beta 4 and found out that the rumored resolution of 640X1136 fits perfectly in the latest iOS 6 beta version. Luckily, 9to5mac was able to play with the simulator with the iPhone 5-rumored resolution and found out that the resolution fits perfectly in iOS 6.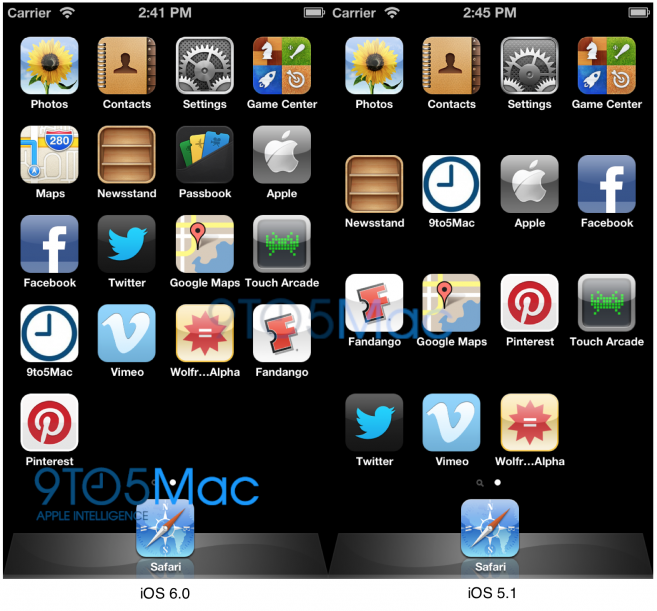 The same resolution was tested on a simulator iOS 5.1 public release and on the iOS 6 beta 4 Developer Build. The iOS 5.1 showed four rows of Apps on the same resolution, where as the iOS 6 simulation showed five rows of Apps.
Perhaps even more interesting is that the simulator will not correctly display five rows of icons at resolutions other than 640 x 1136. At other resolutions, the icons will scale to an iPad-like home screen layout, not at the proportions and spacing of the current iPhone and iPod touch display. This may just add another layer of proof that the next-gen iPhone display will come in at a resolution of 640 x 1136.
The simulator is capable of running the Apps on a taller display doesn't means that Apple will be going with the same resolution or screen size. The screen size is strongly rumored to be 4-inch but the no words have been said on the resolution of the iPhone 5.
Anyways this is not an issue because the next-generation iPhone 5 is around the corner. We are only few weeks away from the official announcement of the iPhone 5. Once again, the dates for the media event of Apple are rock firm for September 12. In addition to media event, one thing is for sure that the Cupertino giant tech company will be unveiling the next-gen iPhone with a new larger screen.