We are left with almost two weeks until Tim Cook with the Team would take the stage to announce the iPhone 5 officially on the Media Event planned on September 12. These two weeks are enough to make one go crazy with all the bombarding's of the rumors regarding the iPhone 5 Design, panels, and different hardware part leaks. Following the rumors and parts leak, the same French blog that is active in posting rumors about the iPhone 5 today posted a new shots of allegedly leaked iPhone 5 in comparison with the iPhone 4 and iPhone 3GS.
The images posted by Nowhereelse regarding the iPhone 5 comparison with iPhone 4 and iPhone 3GS portrays a clearer look about the looks of the iPhone 5. The images clearly show about the design difference between iPhone 5, iPhone 4 and iPhone 3GS. All these beauties of their time are placed besides each other by iColorOs to portray a clear look of the iPhone 5.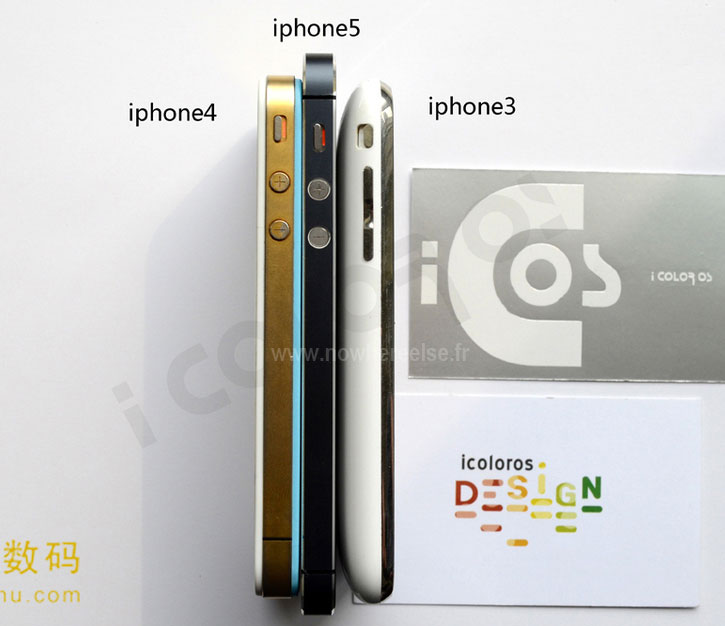 The iPhone 5 dummy is the same as of the allegedly leaked cases that surfaced the Internet in preceding months. The same dummy of the iPhone 5 has been compared with iPhone 4 and iPhone 3GS showing the iPhone 5 would be much thinner than both of the iPhone's would. The iPhone 3GS is the fat lady and the iPhone 4 is the slim one, where as the iPhone 5 is the slimmest one beating out both of the family members with a bigger screen.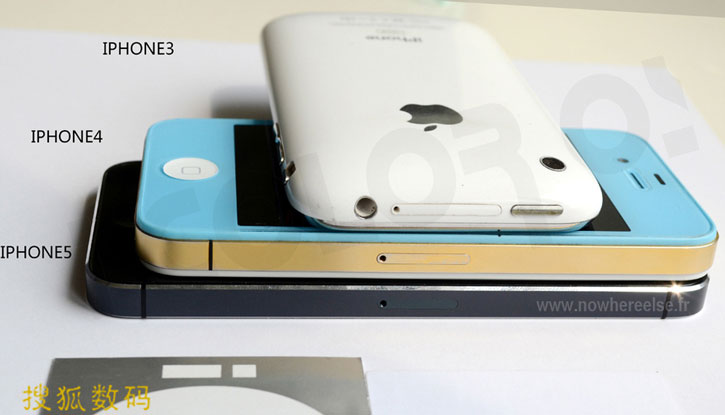 After being compared with each other side-by-side, now comes the turn for the SIM Frames to be compared. The iPhone 3GS carries the same old-fashioned SIM Frame of Large SIM. The iPhone 4 carries a semi-new fashion of Micro SIM and the remaining iPhone 5 is expected to have a Nano SIM card. It is clearer in the picture shown above. Apart from the picture above regarding the Nano SIM Card in the iPhone 5, there have been many rumors and leaks showing the possibility of Nano SIM Card in the iPhone 5. The Technology of the Nano SIM Card is not new.
The Danish Telecoms are already stocking the Nano-SIM Cards for the upcoming iPhone 5.
Apple is expected to announce the iPhone 5 on September 12 with per-ordering starting the same day. The first wave of the iPhone 5 would be released on September 21 and the second wave would be released some where in the first week of October.