Ahead of nex-generation iPhone launch, previously Sprint beaded the iPhone prices with a small discount of $50 off on the iPhone 4S. This sudden price drop of $50 was said to be done because of the emerging rumors pointing out towards the iPhone 5 September 12 announcement. The price drop was only noted by Sprint on the iPhone lineup. Even after the hardware leaks of the iPhone 5, Apple sustained the same on-contract price of $199/$299/$399 for the iPhone 4S, $99 for the iPhone 4, and free of cost for the iPhone 3GS.
Suddenly today after more leaked parts of the iPhone 5, it came into consideration of macrumors that Apple has authorized its retail stores to start off with the price matching technique with the major carriers to grab out some traffic towards them as well.
But a source has now revealed to MacRumors that Apple's retail stores have been given authorization to match these discounted prices from approved major retailers and carriers.
Therefore, from now on Apple retail stores would be selling the iPhone 4S at a new price of $149.99/$249.99/$349.99, iPhone 4 at $49.99, and iPhone 3GS as usual free of cost. Apple simply sliced down $40.01 off their iPhone Models making a price match with all the other carriers.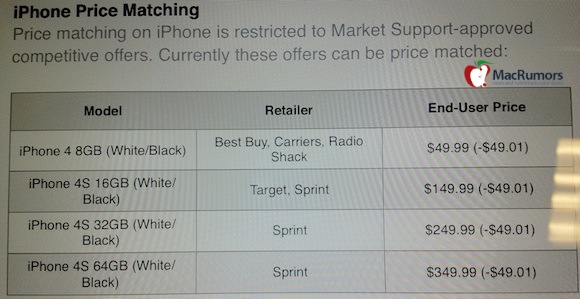 This sudden price match strategy by Apple hints towards the confirmation of the iPhone 5 for the fall launch. In past Apple has relatively dropped the prices on their previous model of iPhone's when ever the new iPhone was to be announced.
Anyways, this offer of price drop is only available at the Apple retail Store and not for Online Orders. To take full advantage of this price drop, simply head over to the nearest Apple retail store and take full advantage of the the sudden price drop.