It has been a long time since we heard the name of "Jailbreak" or "Untethered Jailbreak" for iOS 6.x.x. We did heard about the departure of Comex from the Jailbreaking world because of this studies that he wanted to allot time rather than finding more exploits and put Apple to shame. Soon after the departure of Comex, Posixninja of the Chronic-Dev Team also departed from the team due to some internal issues related to money. However, Posixninja (Joshua Hill) didn't stopped working for the Jailbreak community, he indeed worked on his own to find as much exploits that he can to PWN the A5, A5X, A6, and A6X processor series lineups.
In the preceding month of November, we told you people about groundbreaking news regarding the progress that Posixninja made for the Untethered Jailbreak of iOS 6.0.1 on A5, A5X, A6, and A6X processors line ups. Incase if you have missed the news, you can view it here. Well, that was the last time when we came across the first update regarding the Jailbreak and as of now, no one jumped into the scene and made any announcements other than this new member in the Jailbreak Community.
This new member call him self as Dream JB (Jailbreak) who claims that he has found the Untethered Jailbreak solution for iOS 6.0.1 on iPhone 5, iPhone 4S, iPhone 4, iPhone 3GS, iPad 2, iPad 3, iPad 4, iPod Touch 4, and iPod Touch 5. The claim of this person or team is that they have obtained the iOS 6.0.1 Untethered Jailbreak on every single device running iOS 6.0.1 and they would be making the release on December 22 exactly. The team or person vows to release the tool on December 22 and wont delay the tool.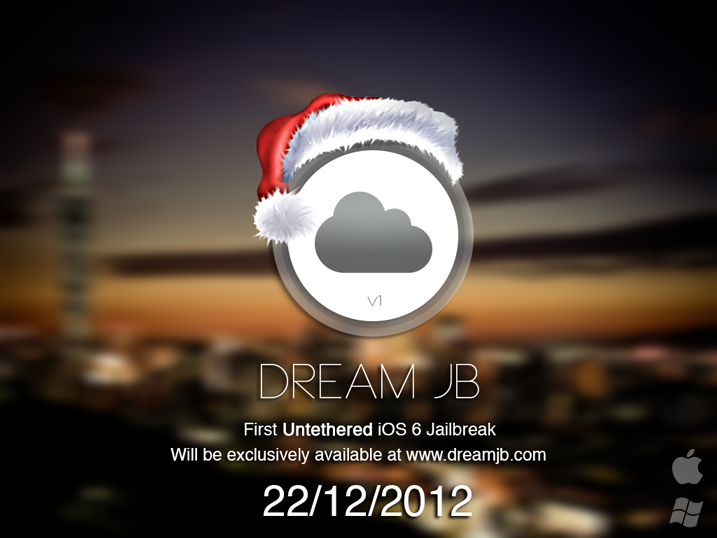 The identity of the person behind DreamJB is unknown because he has set on some privacy on his website. Who ever is the person behind the DreamJB, he seems to be too much pissed on the Jailbreak community Hackers.
In a note on his website, it is written that:
Mid to early next week – FAQ will be posted, information regarding the jailbreak procedure, information about the Dream app itself, error reporting, and introduction video.

Update December 7,2012 5:58 PM EST – Twitter account back online. I will be using Twitter to post updates, and in the coming week will be sharing some stuff you want to see.

Update December 7,2012 1:23 PM EST – Thanks to a few individuals, my twitter account has been inappropriately suspended. To certain members of the scene, you know who you are, I've invited you to contact me to discuss this jailbreak via email and you neglected. It's rather disappointing to see how egotistical this community has become. For members of Dev teams to explain to reporters that it's nearly impossible for anyone outside the dev teams to come up with a jailbreak solution is absolutely ridiculous. To everyone else, the release is set for December 22nd, and will not delay.

Update December 6, 2012 1:37 AM EST – I have been receiving a high volume of emails. I will address your questions as efficiently as I can. A twitter account has recently been set up to help manage public relations. I am merely a one man army, folks. I apologise for any delay in responding to your inquiries. Recurring questions will have their answers posted on an FAQ page which will appear on this site in the coming week. I should also note that I am not affiliated with the Dev team in any way. Feel free to contact me at dream@dreamjb.com
Moreover, the quote written on the blog is also very motivational that makes use believe that the person behind this DreamJB is a well-experienced person and knows a lot about Jailbreak community.
"Only those who attempt the absurd can achieve the impossible"
It is very early to confirm or say anything about this tool and we cannot confirm the authenticity about this tool, but we suspect something fishy. We are expecting a heroic return of some one. Comment the name below if you can guess it right.
UpdateX1:
This topic of iOS 6.0.1 Untethered Jailbreak is gaining heat as the time is closing by for the final release date. Recently, the developer of Dream Jailbreak announced on this Twitter account that the Exploit would be a user land exploit and not any bootrom level exploit.
Hi folks, the jailbreak is userland, and not a bootrom level exploit. I don't predict a bootrom exploit happening for a very long time.

— Dream Jailbreak (@DreamJailbreak) December 7, 2012
This sounds fishy, but the time will be the righteous judge about the Dream Jailbreak Tool.