Staying up to date with the bombardment of the rumors regarding the iPhone 5 today comes a new bomb. This new bomb comes from Apple.Pro blog that posted new attachments of the iPhone 5 that were published in a Chinese News Paper Apple daily. Apple.pro got their hands on the newspaper Apple Daily and scanned out some important information regarding the iPhone 5. The newspaper is in Chinese claims to have done some homework over the measurement of the iPhone 5.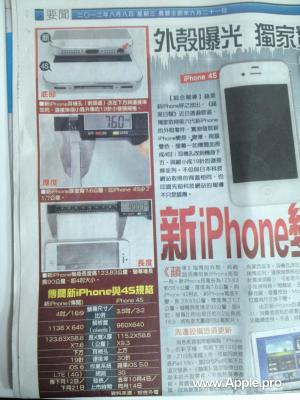 The attachment of iPhone 5 measurement in the newspaper points towards the measurement of 7.60mm; where as rest of the measurements are same as the one that got leaked recently in the hands on prototype of the iPhone 5.
One manufacturer we spoke to said that he was sure that the leaked images were accurate – so sure that he was already preparing to construct iPhone 5 cases and he'd be willing to ship replacements for free if they turned out not to be perfect. He enumerated three big changes from the old iPhone 4S to the iPhone 5: 

1. The phone is much bigger, measuring 58.47 mm wide, 123.83 mm high and 7.6 mm thin. The screen is 4″. 
2. The earphone jack has been relocated to the bottom of the phone. 
3. The dock connector is much smaller, similar in size to micro USB.
iPhone is said to be 7.60mm in depth and 18% thinner than the iPhone 4S. The iPhone 4S is 9.3mm in depth. The other difference will be made in the size of the screen. The iPhone 5 will feature a 4-inch screen.
All these rumors will end on September 12.