As of Wednesday, September 18, 2013, Apple rolled out a major iOS update with everything changed in it starting from design to features and later today, the NYPD was spotted distributing Fliers outside Apple Stores, Subways encouraging people to update their iPhones, iPads to iOS 7. This sounds strange because to update or not to update is the decision of people using iPhone/iPad. Why is NYPD so concerned about the latest iOS 7 update by Apple?
Did Apple paid them to do this Job or Apple is trying to promote its iOS 7 by the help of NYPD?
Amazingly, both of the above statements are wrong because NYPD is doing its Job to aware people regarding the latest update in which Apple has taken the security to next level by revamping FindMyiPhone. Over here, many of you wont know about what is FindMyiPhone. Few of you would say that it helps in finding your iPhone when it's lost. Some of you would say that it is just a service by Apple to enhance its iOS, and some of you would be favoring this FindMyiPhone Service because you might have used it in past or would be aware of it.
Continuing the story of NYPD and iOS 7 Updating Fliers outside Subway Stations and Apple Stores, in past we told you about the rate of iCrime that was increased by 40%. The same time iCrime increased, NYPD issued a warning for iProduct owners to be safe at Subways because majority of looting was done at train stations while the person using an iPhone or iPad is entering in the train or exiting it. Therefore, NYPD issued a statement for the iPhone and iPad owners to be aware while they are on particular unsafe locations.
This was the first reason that NYPD is distributing Fliers for iOS 7. Now comes the main reason behind this campaign.
With the release of iOS 7, Apple didn't only changed the UI, Features, and Look of its iOS, but it took everything to next level by introducing modifications in its security system as well. The security system is called FindMyiPhone.
Apple innovated this feature of FindMyiPhone by introducing Activation Lock in its iOS 7 Version because the security summit was ahead and every one was expecting Apple to come up with something secure than before. In addition to this, Military personal were planning to introduce iPhone to its personal because it has become the securest Devices after the introduction of Activation Lock. Moreover, in past FindMyiPhone has helped the Police to recover stolen vehicles, iPhone's, and iPad's from different locations.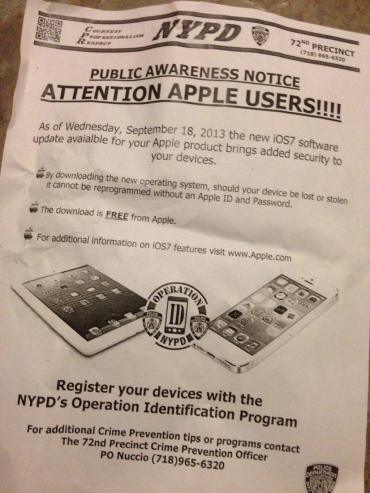 Even, FindMyiPhone has helped an owner of an iPhone 5 in Pakistan to recover his stolen iPhone.
Even before the introduction of iOS official version that is the public release, when iOS 7 was in its Beta Stages, we conducted a two-phase test to see if Activation Lock really works or not. The results were mind-blowing and they are posted here.
To conclude the long story in short, everything is clear now on why NYPD is encouraging iPhone and iPad users to update to iOS 7. It is for their benefit. In near future, if their iDevice is stolen or lost, then can locate, disable it, and make it useless for the thief by using FindMyiPhone Service and reporting it to the NYPD for further investigation.
You safety is in your hands now. We will also encourage every one reading this to update to iOS 7 (if its compatible) and enjoy the amazing feature of FindMyiPhone called Activation Lock. In case, iOS 7 is not supported on your iDevice, you can see the alternative here and here.