We have seen tons of iPhone 5 cases in preceding months. This time we will be seeing an iPhone 5 Dummy in the iPhone 5 Leaked case, which somehow made its way out from the supply chain to IFA 2012. The same event where Samsung announced their new product line-ups of Galaxy Note 2 and many other accessories. Luckily, some news reporter got his hands on the iPhone 5 Dummy that was trying to hook people's consideration and might be rescinding Samsung's market of Galaxy Note 2 before they go on sale or the iPhone 5 Dummy might be invited on IFA 2012 to see if Samsung has copied anything out it.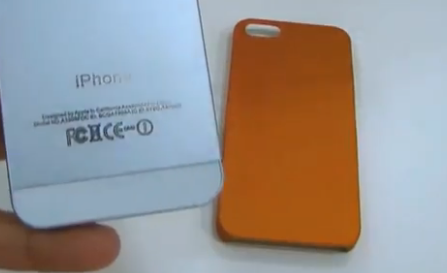 Luckily, Samsung didn't copy anything out the leaked designs because nothing was official. If it were official, then the iPhone 5 Dummy would have taken the stage to burst Samsung's product launch. A part from the jokes, the news reporter who spotted the iPhone 5 Dummy at IFA 2012 has shared a video of the iPhone 5 Dummy in the case.
 iPhone 5 Dummy Video:
The iPhone 5 Dummy in the case looks the same as portrayed in the leaked designs shown before. The iPhone 5 Dummy is in White Color when taken out of the unknown case. This white color iPhone 5 Dummy resembles a lot as the preceding leaked assembled designs of the iPhone 5. The iPhone 5 Dummy portrays the same 4-inch, 16:9 screen in height. The same centered position of the FaceTime Camera. The iPhone 5 Dummy seems to be legit if compared with the leaked designs collected from different suppliers in preceding months.
However, HDBlog, reveals the undisclosed truth behind this iPhone 5 Dummy and the parts that were making headlines on the different Chinese Micro Blogs. The undisclosed truth about the leaked iPhone 5 Dummies is that they are sold in China at a price of 45YEN.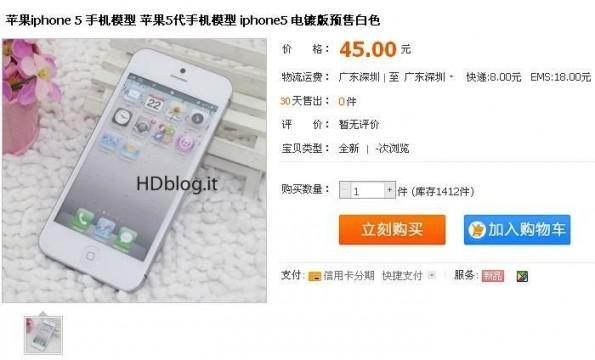 The iPhone 5 dummies are sold on some China's Online Store at the price of 45YEN that makes about 4 EUROS. This means that one can easily afford an iPhone 5 Dummy and make a headline out of it.
We believe, the same thing would have had happened at the IFA 2012 where some one bought the iPhone 5 Dummy for few bucks with the rendered case and showed it up on display.
In addition to all of the above rumors, we are hardly a week away from the official announcement of iPhone 5 by Apple on September 12 Media Event.
via(iMore)