Apple is expected to roll out Media Invites by the end of this week or within this week for the launch of the upcoming iPad Mini. The Media Invites for the iPad Mini were speculated to be rolling out on October 10 with the unveiling to be done on October 17 and the iPad Mini would go on sale in early November. Following this preceding rumor regarding the iPad Mini Media Invites and iPad Mini Sale to start in November, Zagg the well known iPhone case manufacturer has started to advertise on its website regarding the iPad Mini Screen Protector. Zagg is offering the iPad Mini screen protector before the official launch of the iPad Mini or the iPad Mini announcement is confirmed.
This might sound strange to some of you, but this is not strange or anything new that Zagg is doing. This is the sole practice of every case manufacturer to start manufacturing the cases, screen protectors, and other accessories for the upcoming product of Apple only by seeing the Mockup of it. The case manufacturers play a blind game by offering cases and other accessories before the official product is even announced.
We can say that these case manufacturers are playing a blind game of poker in which they got two possible outcomes with the probability of 50-50. The two possible outcomes are Pass or Fail. Either the case manufacturer will win the game by making the cases before hand and some how Apple announces the same product or the case manufacturers will fail the game if the product is not the same as of the mockups. Sometimes these early predictions for the upcoming product can lead to a big loss. Something similar happened at the time of the iPhone 4S announcement. The early predictions lead to a big loss for the case manufacturers.
However, at the time of the iPhone, the case manufacturers were lucky and they made the same design that Apple released. The mockups of the iPhone 5 were of the same shape that Apple had planned. In other words, we can say that the iPhone 5 was leaked prior to launch in the form of Mockups. With the help of same Mockups, different case manufactures started to make  screen protectors and iPhone 5 cases.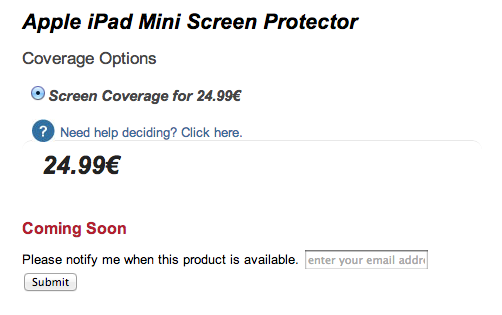 Coming back to the iPad Mini Screen Protectors by Zagg, Zagg is offering the iPad Mini Protectors at a price of 24.99€ with no rock firm shipping or availability date of the Screen Protectors. Indeed the website says to subscribe for the updates. As soon as the iPad Mini is released, you will be notified about the screen protectors when they are on sale.